The ballots are printed,
the predictions are set
, and the red carpet is ready! A laid back atmosphere can make or break any good Oscar party as friends become rivals when battle lines are drawn between
Three Billboards
,
Lady Bird
, and
Get Out
. (Anyone without a stake in the race should take a bathroom break during Best Original Screenplay.) Help create a cozy and convivial mood with some themed Oscar noms for this year's contenders. Draw out the finer points of the films over bubbly and have a good laugh: tonight's for celebrating.
After starting the day with an English breakfast à la Winston Churchill (every morning should start with whisky) and some hard boiled eggs à la
The Shape of Water
(what you do in the tub is your own business) enjoy a balanced dish of frontrunners and dark horses. Here's a menu of Oscar noms for this year's nominees:
Afternoon snack/pre-Oscars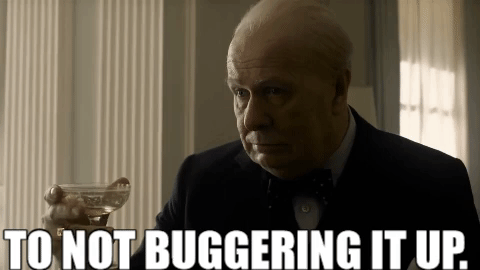 Darkest Hour: day drinking.
INT. BUCKINGHAM PALACE - DAY
WINSTON and the KING at lunch at a DINING TABLE. WINSTON eats heartily. The KING, with little appetite, smokes, watches WINSTON wash down the food with hearty gulp of champagne.
How do you manage drinking during the day?
Lady Bird: communion wafers and hummus.
Best paired with beet hummus in the spirit of Lady Bird's 'do. Save room for the Holy Spirit!
The Main Event: Oscars refreshments and tapas
The Post: lemonade.
Add a little bourbon like the pros do. The Post isn't winning tonight, so anyone rooting for it might as well hit the hard stuff early. Party like it's the Golden Globes!
Three cheesboards outside Ebbing, Missouri
Three Billboards: Three Cheeseboards outside, Ebbing Missouri
Stock up on that fine small town cheddar from Giant Tiger.
The Dunkirk land-air-sea trio
Dunkirk: Land, air, sea trio
Beef slider, quail, baby octopus.
Or, if you're not the cooking type, toast and jam.
My favourite part of Phantom Thread was when DDL Instagrammed his brunch.
Phantom Thread: noisy toast and mushrooms.
Best served with a side order of toxic masculinity.
Dessert:
Call Me By Your Name: Pesche alla Elio
(aka peaches and cream) 🍑🍑🍑
The Shape of Water: key lime pie.
In the spirit of dirty franchise desserting, our Oscar party will be serving Sara Lee.
Get Out: tea.
Because every party will have that woke Oscar watcher pouring the same watered down truth tea. If only they could sink into the floor!
I, Tonya: Dove ice cream bars.
Because champions don't settle for Eskimo pies!
Oscar Party Playlist:
Add some Oscar tunes to the pre-show and debate the merits of this year's Best Original song nominees!
*Best Original Song nominee
"The Mole" – Dunkirk
"This is Me" – The Greatest Showman*
"Mystery of Love" – Call Me By Your Name*
"What He Wrote" – On Body and Soul
"Crash Into Me" – Lady Bird
"The Night They Drove Old Dixie Down" – Three Billboards
"Sleeping Bag" – I, Tonya
"Green River" – The Post
"You'll Never Know" – The Shape of Water
"Stand Up for Something" – Marshall*
"Remember Me" – Coco*
"Mighty River" – Mudbound*
"Run Rabbit Run" – Get Out
"Raise Your Words" – The Breadwinner
"(You Make Me Feel) A Natural Woman" – A Fantastic Woman
"Visions of Gideon" – Call Me By Your Name